Just as the homeschooling world is ever transforming, so are we. The Homeschool Buyers Co-op has changed its name to the Homeschool Buyers Club and given our website a cutting-edge new look. Our commitment to you is the same. We continue to bring you the best homeschool curriculum in the world for the best price. Always.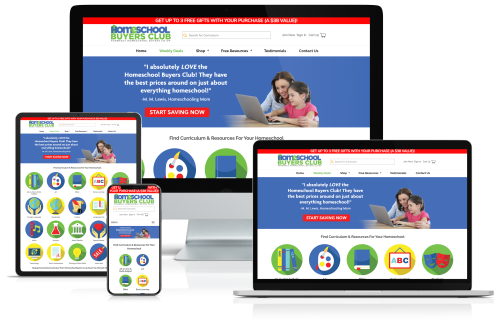 Modern Design
With our modernized look and feel, browsing our ever-expanding catalog of homeschool curriculum is now effortless and pleasant. Once you have selected your subject category, our advanced filters help you to narrow down your search and zero in to pinpoint your perfect product match.
Simplified Search
Searching for just the right product has been further simplified with our at-a-glance grade level color coding. Now you will be able to quickly identify which offers will meet you child's specific learning level.
Designed To Fit Your Life
Our site is designed to be easy to use anytime, from anywhere, and on any device. Whether you prefer to browse on your smartphone, computer or anything in between, you will get the same easy to use experience.
Be on the lookout for more exciting changes coming down the road as we continue to adapt and improve your shopping experience making the Homeschool Buyers Club your go-to location for all your homeschooling needs.