Computer programming (otherwise known as coding) has become a hot topic in the homeschool community. While many families recognize the importance of coding, there are some who feel that it might be too specialized for core homeschool curricula, and there are many others who don't feel equipped to teach it properly.
As the director of a kids coding academy, I have seen firsthand that teaching coding early and often provides a number of important educational and developmental benefits that will give homeschoolers a leg up in tomorrow's world.
The homeschool environment is ideal for coding education, and families can proctor effective coding courses even if parents have little or no background in computer science.
Here are 6 reasons why I believe that computer programming should be a part of every family's homeschool curriculum.
1. Coding builds creative problem-solving skills
A key 21st century skill that nearly every profession requires is problem solving. A proper coding education teaches kids how to learn new languages, tools, and frameworks and naturally helps them use the scientific method to solve interesting problems.
While planning, executing, and testing their code, students learn to make games, control robots, build apps, and employ creative solutions in the process.
2. Computer programming provides key early learning benefits
As early as kindergarten, children move from merely perceiving their environment to making logical connections between the environment and things around them. Coding helps kids learn logic skills through something educators call "procedural literacy."
As Mitch Resnick from Massachusetts Institute of Technology put it: "When you learn to code, you start thinking about processes in the world." Many educators view procedural literacy as a critical next-gen skill that students must learn to be employable in tomorrow's world.
3. Understanding code will help kids understand the world around them
Computing is involved in nearly every part of our lives, including the Internet, e-commerce, social media, transportation, banking, and more.
Computation will become even more widespread in the coming years as robotics and the Internet of Things (IoT) take an ever more important role in our daily lives.
In the same way that kids study the physical sciences to better understand the physical universe, learning coding will help them navigate our increasingly digital world.
4. Coding strengthens math skills
Coding and math go hand in hand. But while traditional rote mathematics instruction is repetitive and boring, coding makes math come alive, and when taught in the right way helps kids become engaged with a subject that they didn't enjoy.
As an example from our own academy, many students learn the concept of the radius of a circle by studying worksheet illustrations. In a CodaKid coding lesson, our students learn about radius while modifying the size of explosion effects in Minecraft's Java source code. Afterwards, all of the students were able to successfully estimate the radius of a wastepaper bin in our classroom.
5. Technology and robotics will reshape jobs of tomorrow
By the year 2020, robotics, artificial intelligence, and machine learning will eliminate an estimated 5M jobs.
While this is bad news for several industries, there is a silver lining.
In today's job market, almost 60% of jobs in math and science are computing jobs, yet only 2% of math and science students are computer science students. There are tremendous opportunities for graduates who have coding and tech skills.
6. Even if you don't have an engineering background, you can easily lead an effective homeschool coding course
There are many excellent computer science options available for homeschool families, and you don't have to know how to code in order to use them.
For one, there are an increasing number of excellent online courses, including some like CodaKid that even include messaging and screen share support from a friendly teacher team in the event that you get stuck.
For younger students, we recommend that you start with visual block coding options. As students gain skills and become more proficient, you can move them into text-based coding courses.
Conclusion
Kids coding is growing rapidly in the homeschool community, as many parents recognize the growing importance of tech skills in tomorrow's world.
In addition to providing students with a valuable 21st century skill, coding strengthens many other areas, including math, science, problem solving, and more.
The flexibility of schedule makes homeschooling a perfect setting for computer science training, and the plethora of excellent online options make kids coding a discipline that should be included in every homeschool curriculum.
---
Join David on 8/12/19 at 11:00 AM Pacific for a FREE Webinar as he goes over the importance of computer programming, how to set up an effective homeschool computer science program for your child, how to teach coding when you don't have an engineering background, curriculum recommendations, and more.
---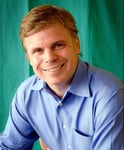 David Dodge, the founder and CEO of CodaKid, is a game designer, educator, Inc columnist, and speaker with experience teaching tens of thousands of kids in 80+ countries how to code. David is credited in the development of over 30 video game titles for Sega and Sony, and blogs frequently on kids coding education.
CodaKid provides award-winning online coding courses that are available at Homeschool Buyer's Co-op at savings up to 80% here.