Nerds were once considered to be those people who were devoted to academic pursuits, shy, awkward, quirky and unsocialized. No longer considered a negative attribute, today's nerd is not only someone who may be highly intellectual but who also simply enjoys learning and does not conform to the social norms. Bringing out the nerd in your homeschooler can be fun with some of these great activities.
Host A Nerdy Movie Marathon
Bust out these classic, sci-fi and science related movies and settle in for a movie day with the family! Some of our recommendations include:

• Interstellar (PG-13)
• The Martian (PG-13)
• Inception (PG-13)
• Dream Big: Engineering Our World (Documentary)
• Hidden Figures (PG)


Let's your kids invite some friends over and have them dress as their favorite sci-fi or scientific icon or character! After each movie, have the kids talk about their thoughts about the movie, how the plot turned out, and how they think it relates to math or science in a real way.
Have periodic table dinners
Hang a periodic table in your kitchen and try to knock out at least 1 element one the periodic table in every meal. You won't be able to do them all, but once you get past the elements you could include in a meal, start discussing the outlying ones and what your family thinks a meal that would include one of those elements might taste like! Don't forget to be creative! For example, obviously you will never eat Silver (Si) but you may be able to use silverware or sometime of cooking device made of silver to eat or cook the meal! Bingo!
Share a Question of the Day
Kicking off the day with a healthy breakfast for your kids is important but so is getting them in the right head space for the day! By creating a habit of sharing a question or a fact for the day, you can start your kids off with a fun and engaging discussion before they finish breakfast! It is a great way to engage the whole family and cover a variety of topics pertaining to STEM from top to bottom! Not sure how to find the questions? Google fun STEM facts or great science facts to start!
Do a Growin'GEERS quest
For most STEAM activities, students and parents are encouraged to look outside of the home to enroll in a coding activity or sign up for a robotics club. While those are amazing activities that are great to be involved in, STEAM education can happen in the home without breaking the bank. With Growin'GEERS, students can learn about a variety of engineering disciplines, from mechanical to biomedical, by doing hands on activities using household materials. They get to learn through Flynn's adventures about different engineering concepts and get to be creative along the way! These STEAM activities are great to do as a whole family too and compare each person's design to discuss the differences that make them unique!
By reinforcing that knowledge is power and that there is not a single thing wrong with the pursuit of intellect, you can help your "nerd" sore to new levels of confidence and learning.
---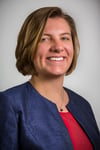 Alex Choquette is the founder of Growin'GEERS. Her passion for engineering started later in her high school career during a campus tour at the University of Pittsburgh. She immediately fell in love with engineering as a way to use her math and science skills to make an impact on society. Since earning her Industrial Engineering degree at the University of Pittsburgh, she has been passionate about teaching others the joy of engineering.
If you are looking to add more hands-on STEM activities into your classroom, then take a look at Growin'GEERS and save 31% here on an annual subscription good for up to 5-users in your home.